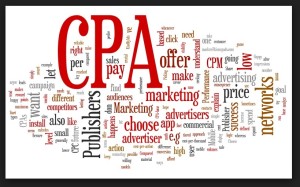 CPA Affiliate Networks is our subject to discus and It's my pleasure to see you here. But I hope you read my last post "How to Start Affiliate Marketing (Part 1: Find an Affiliate Networks-PPS)" if you haven't done it yet then first read that post because this post I am writing here it's 2nd part of previous post.  To starting Affiliate marketing you must choose a product or service first for affiliating it. If you want to stick with pay per sale (PPS) then you can escape this post to the next post. This post is all about CPA affiliate items and How to find a good CPA network.
There are thousands of CPA networks are available in online but as I told you before, always look for brand and goodwill Networks. Good networks are faithful with lead conversion and make sure you receive your hard working money in right time. Just imagine, you are a merchant and you want some registration in your website, you have budget $10 for each registration to your website. So in this case which CPA networks you will give that job to had it done with quality? Of course, you want the best CPA network to do that job. This is it; good Affiliate Networks get more offers from merchant and with high payment, so good Networks is the opportunity of more offers with good money for publishers too.
Almost every CPA networks has similar offer programs; Download, Pin-Submit, Free Survey, Trail Offer, Email/Zip Submit, Social Action, Dating Site Signup, Credit Card Submit, Credit Score etc. Another Post I will discuss about CPA Offers Categories in details. Below I am going to review the best CPA Networks I am involved.
MaxBounty: Maxbounty.com is the best CPA affiliate Network. Without doubt you can vote for them. But if you are completely new affiliate marketer then it will be little bit complicated to be one of their publisher. They give priority for experience publishers. But they have options to submit publisher application for beginners too.   Click here to signup maxbounty.com
Peerfly: Strong Affiliate management team and good offers made Peerfly.com one of the best choices for publisher. Good payment system and helpful account manager are ready to help you any time. Click here to signup cpagrip.com
ClickBooth: If it goes to publisher choice from all CPA networks, they always tried to be connected with  Clickbooth.com. They are the top second Affiliate Network.  Click here to signup clickbooth.com
Adworkmedia:  If you want to lock your content and links from your website and make money from it then you came to the right place.  AWM is the name of global performance for now days as a CPA Network.   Click here to signup adworkmedia.com
Cpagrip:  Cpagrip.com is good for beginner affiliate networking. They have some very good offers too. They are paying very high amount of commission for Pin-Submitting program. Click here to signup cpagrip.com.
Some other very good networks list I am posting below, sometime it's better to have accounts in different Networks, then you can compare better offers,
Compare Current CPA Offers: Knocking different door is better than stick with one. You are thinking, what is my meaning with that. It's simple; never stack with one CPA Network. Comparing offers give you more opportunity so If you want to compare current CPA offers and take the best offer then visit the websites I am providing below,
This post is discussed about How to find a good CPA Affiliate Network. Next post we will know, How to Choose an Affiliate Products or Service.
Keep in touch and have nice time for you. Wish you best of luck.